Workout: So, you're determined to get the most out of your workouts, and you should be. This is about your health, your energy and the general vibe you carry into your day. However, even the most seasoned athletes will tell you that what you do before your workout sets the stage for everything that follows. And we're not just talking about the basic stretches. Sure, a warm-up is essential, but what about sleep, hydration and mental preparedness? Let's just say successful workouts are not solely born in the sweat and strain of the gym — they're often conceived in the hours leading up to them.
Your pre-workout routine impacts everything from your performance and endurance to your recovery and overall fitness results. The choices you make here ripple throughout your entire workout and even into your infrared sauna blanket post-workout session. So, let's set the stage for some stellar workouts. Below are 10 actionable tips that are tried and true, designed to get you ready for the best exercise of your life.
1) Prioritize Sleep for Optimal Performance
When it comes to working out, don't underestimate the power of a good night's sleep. A consistent sleep schedule ensures you have the energy and stamina you need to not only complete your exercise routine but to excel at it. Think of it as charging your body's battery. Aim for at least seven to nine hours of quality sleep, and you'll notice a significant difference in your physical performance and focus.
2) Keep Hydration in Check, Not Just In-the-Moment
Hydration is not a pre-workout ritual — it's an all-day commitment. Downing a gallon of water right before you hit the gym won't cut it. If you're thirsty, you're already late to the hydration game. Keep your water intake steady throughout the day to ensure you're well-fueled for your workout. Handy apps can set reminders to sip water at regular intervals, keeping you in your peak form.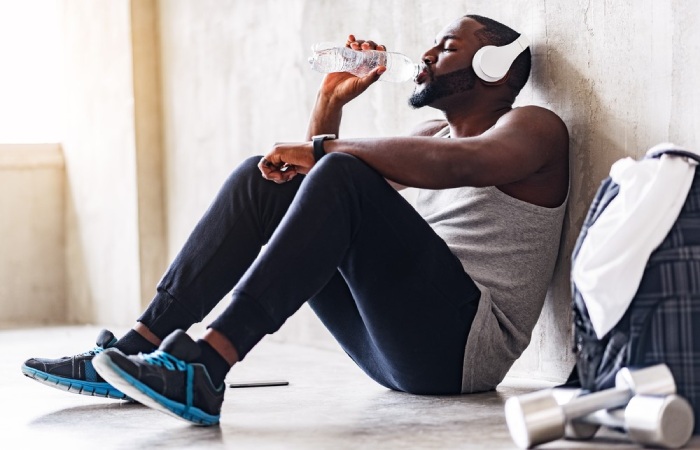 3) Fuel Up with a Pre-Workout Meal
Your body needs the right nutrients to power through a workout. About two hours before you start, consider eating a balanced meal that includes protein, carbs and a touch of healthy fat. This isn't a feast — think more along the lines of a turkey sandwich on whole-grain bread with a side of fruit. This sort of nutrient-dense meal will give your body the sustained energy it needs to perform at its best.
4) Dynamic Stretching: Your Go-To for Injury Prevention
Skip the static stretches before you start pounding the weights or hitting the pavement. Dynamic stretching is your warm-up friend, allowing your muscles to wake up gradually and prepare for the exertion ahead. This can be as simple as leg swings, arm circles or high knees. These movements not only improve your range of motion but also significantly reduce your risk of injury.
5) Boost Your Game with Natural Pre-Workout Supplements
Supplements don't have to be complicated or artificial. There are natural options out there, like caffeine, beta-alanine and nitric oxide boosters, that can give you a significant edge in your workout. Whether you opt for a cup of coffee, a beetroot juice shot or a green tea extract pill, these natural enhancers can help you reach peak performance. Just be sure to check with your doctor first, especially if you're juggling any existing health conditions.
6) Loosen Up On-the-Go with a Mini Massager
Gone are the days when you had to rely solely on bulky foam rollers to get those tight muscles ready for action. Welcome to the era of the mini massager — a compact, travel-friendly device perfect for pre-workout muscle prep. Whether you're in the office, at the gym or even traveling, this little tool can be a game-changer in loosening up tight muscles and enhancing your flexibility.
7) Dress for Success: The Right Gear Matters
Ever tried running in shoes that pinch or doing squats in jeans? Not a great idea. The clothes and shoes you wear can make or break your workout. Opt for moisture-wicking fabric to keep you dry and choose athletic shoes designed for your specific type of exercise. It's not just about looking good — it's about feeling good and staying safe during your workout.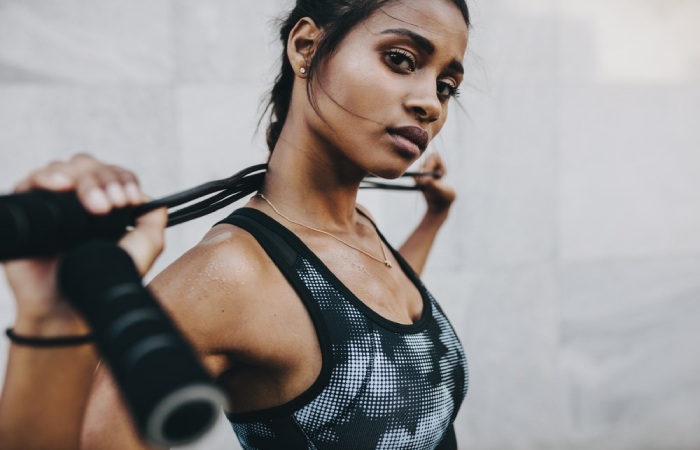 8) Be Prepared: Pack Your Bag and Jam to Your Tunes
Save yourself the last-minute scramble by packing your gym bag ahead of time. Throw in your workout clothes, shoes, a towel and any other essentials. And don't forget that playlist! Music can elevate your performance, helping you push through those last few reps or minutes of cardio. A well-prepared gym bag and a killer playlist can be the difference between a mediocre workout and a stellar one.
9) See It, Achieve It: Visualize and Set Goals
Before you even set foot in the gym, take a moment to visualize your workout. What exercises will you do? What goals are you aiming for? Visualizing your workout can help set the tone and get your mind in the game. Whether it's running that extra mile or lifting a new personal best, setting clear goals can keep you focused and motivated from start to finish.
10) Post-Workout 101: Plan Your Recovery
What happens after your workout is just as crucial as what happens during it. Make your life easier by planning your post-workout recovery in advance. Whether it's unwinding in your infrared sauna blanket, rehydrating with an electrolyte-packed drink or stretching out with a restorative yoga session, having a recovery plan in place helps you fully capitalize on the hard work you've put in. Trust us — your future self will thank you.
Wrapping It Up
Now that you're armed with these pre-workout tips, you're set to make the most out of every gym session, run or home workout. Remember, being successful in your workouts isn't just about what you do during the actual exercise. It starts much earlier, with quality sleep, effective hydration and the right nutrients. It even extends to the gear you wear and the music that fuels you. Your body is an intricate machine — giving it the prep it deserves can take your performance from good to great.
Our aim is to simplify the complex world of fitness, giving you straightforward advice that's easy to implement. Because when it comes to your health and well-being, the smallest changes often make the biggest impact. So, the next time you're getting ready to hit the gym or the trail, remember these tips. They're more than just good advice. They're your secret weapon for achieving optimal performance — every time.